Check out Premier Academy's iPad lab!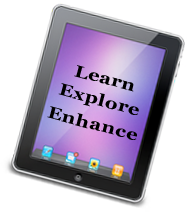 Though never a replacement for quality early learning, used as a supplement to traditional teaching methods, Premier Academy uses iPads to enhance our Toddler/Preschool/Pre-K curriculum.
Many educators consider age 2 to be the ideal age to introduce computers, primarily because most toddlers by this time have the attention span and the hand-eye coordination required to move the mouse and follow the arrow on-screen. Most 2-year-olds are enchanted with the brightly colored images and enjoy making them change by clicking the mouse. At this age, children can usually grasp the concepts presented on beginner computer programs. Though studies have shown that such programs can help toddlers learn shapes, colors, letters, and numbers, we will not replace traditional learning materials with iPads. The use of iPads will be used to supplement, not replace, traditional learning toys like blocks, sandboxes, and crayons."
Computers can also teach the relationship between cause and effect. If the students push something on the keyboard, something happens on-screen. Many parents have noted that the occasional use of computers enhances their child's vocabulary and hand-eye coordination.
It's one more way to explore the world!