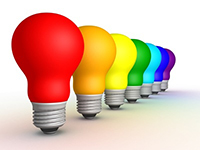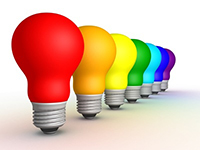 Have a real one-on-one conversation with any preschooler, and you're in for a treat — kids are soaring with ideas. As a mom, an educator, and an entrepreneur, I wondered: When do kids lose their imagination? And what can we do to foster creative thinking skills at home?
1) Ask Your Child to Describe His Work
Your preschooler may sometimes make pictures that look like a one-year-old made them– a series of lines, circles, and a mess of color. But what may look like scribbles can be a whole lot more when you ask your child, "Tell me — what did you make here?" I've learned to never assume, and once my kids start telling me about their scribbly-looking masterpieces, I realize they are just that — creative expressions of their ideas. Plus, drawing and describing their pictures is a very early step to literacy. It is the same skill set they'll use to formulate and write a story someday.
Be sure to motivate your children rather than simply praise them. For example, instead of just saying "good job" or "nice picture," you will encourage your child a lot more by saying "I love how you shaded the sunset with the colored pencils so carefully," or "I can really tell you worked hard on drawing the little boat." Mentioning something specific will motivate your child to be even more creative next time.
2) Let Kids Design Their Own Bedrooms
Support your child to take ownership of his own space by creatively coming up with ideas for his own bedroom design.
Designing their own bedrooms teaches children to step outside the box from one way of thinking and toward feeling comfortable expressing themselves creatively. Today, you see so many kids' bedrooms that look like they've come right out of a magazine. Let your kids take the plunge! Soon he'll be drawing plans, measuring, and problem solving about whether or not his desk will fit under the window.
3) Answer Questions with Questions
When your child has a question, avoid simply giving him an answer. Instead, respond with a question of your own. This allows him to start thinking with a creative problem solving point of view.
For questions you both don't know answers to, it's important to model how to figure out. Continue to prompt your children with questions that will gently lead them to the answer. It makes them feel the success of figuring it out for themselves. That success will give your kids the confidence to ask more questions, find more answers, and become more creative!
Looking for more fun things to do with your children? Contact Premier Academy today!
https://www.premieracademyinc.com/wp-content/uploads/2017/05/3-tips-to-creative-thinking.jpg
150
200
Chris Flaxbeard
https://www.premieracademyinc.com/wp-content/uploads/2021/02/premierbiglogo-header.jpg
Chris Flaxbeard
2014-09-19 12:00:01
2021-03-25 12:53:00
3 Tips to Creative Thinking