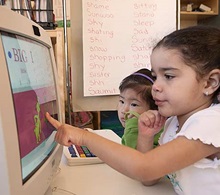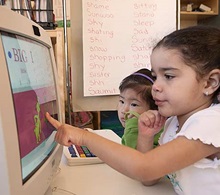 As technology becomes more accessible and affordable, more and more families are using it and when you are looking for a Nebraska daycare, you should look for a center that understand the correct use of technology for all ages. According to a 2013 study by Common Sense Media, an organization dedicated to helping families use technology wisely, 75 percent of children under the age of 8 have access to a tablet or mobile device, an increase of 25 percent in just two years. And that number is growing every year.
Are your children technology junkies? If so, you might be wondering about how to make the most of technology in your home. How should technology be used, depending on your child's age? How can you choose high-quality content? And, what types of limits or guidelines are appropriate? First, understand that technology can never replace or replicate the benefits of unstructured, creative play at a daycare. Children need real-life opportunities to imagine, create, and explore. They also need the supportive warmth that comes from face-to-face interactions with loving adults. On the other hand, technology isn't going away and it can offer educational value when used appropriately. Read on to learn more about technology for kids in the home and learn about our favorite media for children.
Toddlers and Technology
According to the National Association for the Education of Young Children (NAEYC), passive technology viewing has little value for infants and toddlers; the American Academy of Pediatrics (AAP) suggests that parents limit or omit technology use altogether for children age two and under. At this age, unstructured play and human interactions have more educational value. If you do allow technology such as toddler tablets, use it in "the context of human relationships," suggests NAEYC, as you would picture books. Load tablets with photos of family members or animals. Hold your child as you look at and describe the photos. Use your digital device to share picture books, many of which have interactive features.
Technology for Preschoolers
Preschoolers are naturally drawn to technology. But before they begin learning with technology, they will need to learn the basics. Allow your child to explore inexpensive mobile devices stored in rugged frames. Demonstrate how to swipe and touch the screen. Later, your child can learn how to use a mouse or keyboard.
Continue to participate with your child with technology. Download simple, age-appropriate games and eBooks or listen to audiobooks. Take photos of your child's work, such as a block tower or painting, to instantly send to family members. Download a storymaker app and help your child write and illustrate digital stories, which can also be shared with others. Search videos about topics that interests your child, such as the international space station, jungle or arctic animals, or cooking. Use a balanced approach to technology and education, offering it as one facet of a rich learning environment. Be conscious of how much time your child spends with technology and don't allow it to supplant other activities, such as reading, unstructured play, or outdoor play time.
Some of our favorite technology tools for preschoolers:
Curiosityville, the brainchild of Susan Magsamen, is produced by education publisher, Houghton Mifflin Harcourt. This subscription-based service features six adorable animal characters who guide children through science, math, art, early literacy, cooking, and community service activities.
Daniel Tiger's Neighborhood. While exploring Daniel's world, young children learn about everyday topics, such as bedtime, mealtime, going to the doctor, or crossing the street.
Reading Rainbow offers a host of high-quality children's literature along with video clips and audio versions.
Online Safety for School-Age Children
By the time your child is in elementary school, he's probably well-versed in technology. At this age, most children can use a mouse, open and close apps, and even search the internet. It's time to talk with your child about internet safety. Set clear guidelines and internet safety rules about what types of media are acceptable and carefully support and monitor your child's technology use. Tell your child to never share her name, address, or personal information online or on social media. Talk with your child about what to do if he comes across inappropriate content (close the screen and alert you), and make sure you have a high-quality web filter and security system in place.
Help your child understand that technology is just one of many tools for learning. Download educational games, read books, and conduct research. When your child asks a question, conduct an Internet search to find the answer.
Some of our favorite technology tools for school-age children:
Starfall offers a complete reading and phonics program, as well as early math activities. The basic program is free; a subscription service is available for even more content.
PBS Learning Media offers a free round-up of videos, games, and activities on almost any topic. Come here to learn about history, science, math, and literature.
DreamBox is a subscription-based online math program for children. We like it because it delves deeper than most online math programs. Children don't just learn rote math facts; they gain true math literacy.
Storyline Online features celebrities and public figures, such as Melissa Gilbert, Annette Bening, and even Al Gore, reading beloved children's stories.
Remember, technology is just one tool in a parent's toolbox and an important part of learning at Premier Academy daycare. Use it to support and enhance other activities, such as playing board games, reading together, or exploring nature. Children generally find technology engaging, but their need for hands-on learning hasn't changed.
https://www.premieracademyinc.com/wp-content/uploads/2017/05/children-and-technology.jpg
195
220
Chris Flaxbeard
https://www.premieracademyinc.com/wp-content/uploads/2021/02/premierbiglogo-header.jpg
Chris Flaxbeard
2017-01-05 12:01:20
2021-03-25 12:52:17
Children and Technology