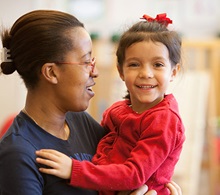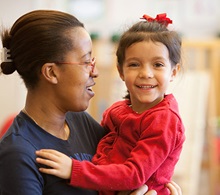 There are many factors to consider when searching for a daycare for your child. Safety should always be at the top of your list. There are safety standards for things like licensing, child proofing, staff-to-child ratios, indoor and outdoor spaces, staff behavior, behavior policies, etc.
While checking off the items on this list doesn't guarantee a center is safe, it can help point you in the right direction.
Licensing Standards are Met
The daycare should be licensed, with the paperwork prominently displayed. Verify that the center is licensed and when it's up for re-inspection.
Spaces are Childproofed
Looking for these childproof must-haves:
Window blind pull strings are looped up out of reach and fastened with anchors
b.    Cribs are placed out of reach of windows and window blinds
c.    Outlet covers are in firmly place
d.    Stairs are blocked off by stair gates
e.    Changing tables and high chairs have straps which are used to secure the child
f.    Toys are clean and in good condition
Policies Are in Writing
You should be aware of the important standard procedures involving things like medication, discipline, cleaning, infection control, sick policies and proper sanitation guidelines. They should all be written down and provided to every family so that parents and staff know what is allowed and what to expect.
Staff is Trained in First Aid and CPR
For the safety of the children, and because accidents can and do happen, at least one member of the staff should be trained in pediatric CPR and first aid.
Healthy and Safe Behaviors Are Practiced
You should get an overall feeling that the daycare is a healthy and safe place. You should notice staff and children washing hands frequently, surfaces being cleaned regularly and babies being put to sleep on their backs. These practices can prevent germs from spreading and keep the children and staff safe and healthy.
Caregiver-to-Child Ratios
There should be adequate caregiver-to-child ratios in the room to allow for an appropriate level of supervision.
Open-door Policy
Be wary of a center that does not encourage parents to observe — before or after enrolling — and ask questions. Parents should feel comfortable asking any questions they have of the program director or staff to be sure that the program is a good fit for their child and family. Ask the director of the program about their philosophy on discipline and be sure that the staff uses positive discipline techniques with the children. And finally, parents should take the time to observe and visit the classrooms long enough to get a sense of how staff interact with the children and with each other.
We want to hear from you. Set up an appointment today and see how much your children will love Premier Academy!
Premier Academy Child Enrichment Center offers childcare in Omaha, Nebraska for infants, toddlers, preschool, and pre-k children.
https://www.premieracademyinc.com/wp-content/uploads/2017/05/is-your-child-ready-for-preschool.jpg
195
220
Chris Flaxbeard
https://www.premieracademyinc.com/wp-content/uploads/2021/02/premierbiglogo-header.jpg
Chris Flaxbeard
2014-02-14 12:00:01
2021-03-25 12:53:16
Day Care Safety