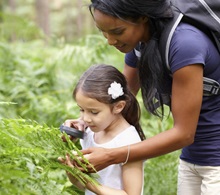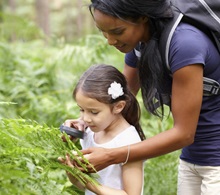 After a busy week of responsibilities, caring for children, and working in and out of the home, we cherish opportunities to be with family members. Shared quality time strengthens your family bond and helps everyone feel valued and respected. It is not necessary to make elaborate plans or partake in costly undertakings to enjoy family time.
Often, the simplest home-based activities foster the strongest connection because children and parents focus on each other – not outside amusements. At Premier Academy child care we think about the meaningful connection that occurs when you explore art materials, play charades and board games, connect to nature, walk around the neighborhood, or prepare a meal together. Below are a few suggestions from the best West Omaha childcare for fun family activities that you might want to try at home.
Family Time: Fun Things to Do With Kids
Be tourists in your own city. Have you ever wondered about the history and legends of Omaha? Have you noticed the types of architecture in your area? Do you know if Native Americans lived there, battles were fought there, or the significance of statues in the local park? By becoming tourists in your town, you can make amazing discoveries. At Premier Academy childcare we take our preschool & pre-k children on field trips so that they can explore their city. Start by contacting the Chamber of Commerce, Natural Historical Society, or local librarians. Just like on a vacation, bring cameras to document your discoveries.
Make stories come alive. All of us know the importance of reading to children. At Premier Academy daycare, we believe that reading is a critical part in building a foundation for your child's education. As you read, you often discuss the storyline and characters. Have you considered setting up scenarios to enjoy similar quests as the characters in the stories? Below are a few examples of how you can extend stories into family adventures and pretend play.

Scarlette Beane, written by Karen Wallace and illustrated by John Berkeley, is the tale of a young girl, born with a face "as red as a beet" and green fingertips. Scarlette grows a magical garden that has veggies so big that the entire community comes to harvest them and make soup. This enjoyable book can inspire your family fun. Plant seeds in gardens or pots, make up stories about magical seeds, get involved in a community project, or even make vegetable soup.
Sylvester and the Magic Pebble, by William Steig, is a classic story about a young donkey who can't believe his luck when he finds a magic pebble that can make wishes come true. Search for magic stones, then talk about, illustrate and write about your wishes.

Play with rocks. Rocks fascinate many children. It's fun to collect rocks, make sculptures, toss rocks, or use small stones to create designs or form letters. Explain that, like people, no two rocks are exactly alike. As a fun challenge during family time, look for rocks that are similar, in size, shape, color, or texture. Create a science laboratory where you can weigh and measure rocks; older children might research the different types of rocks, such as sedimentary or metamorphic.
Nurture your family with nature. Visiting fish hatcheries, farms, forests, and wildlife preserves are exciting, but so are local parks, streams, lakes, woods, and community gardens. Try incorporating outdoor play into your family fun. At Premier Academy daycare, we believe in having at least an hour of outdoor play each day. Use magnifying glasses to search for tiny insects; cameras to photograph the sights you see; tape measures to measure the circumference of trees or the heights of plants; or just enjoy time together outside. ParentMap is one of many websites that suggests fun things to do with kids outdoors, providing simple, nature-based family activities that require little planning or preparation.
Whether your family enjoys playing board games, blowing and chasing bubbles, searching for insects, having a picnic in the park, working on art projects, gazing at the sky, cuddling up with books, or volunteering in the community, time spent together builds strong relationships and satisfying memories.
https://www.premieracademyinc.com/wp-content/uploads/2017/05/family-time-fun-things-to-do-with-kids.jpg
195
220
Chris Flaxbeard
https://www.premieracademyinc.com/wp-content/uploads/2021/02/premierbiglogo-header.jpg
Chris Flaxbeard
2016-05-27 12:01:54
2021-03-25 12:52:32
Family Time: Fun Things To Do With Kids