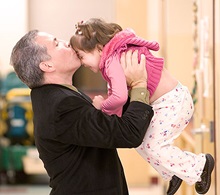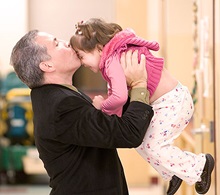 One of the most stressful parts of being a working parent is having a healthy work/family balance. It's hard for a busy parent not to wonder if they truly are making enough time to spend with family. A quality childcare center will acknowledge that being away from your child is extremely difficult but that doesn't mean you are a bad parent.
Your childcare teacher can be a big help as a constant support in your child's growth and development while you are at work. But there is no one-size-fits-all solution to parenting, and there are many paths to feeling successful as moms and dads.
That being said, the internet can fill your head with many different versions of the "correct" way to parent and trying to force your family into someone else's parenting mold can leave you feeling like a failure. Parenting is extremely personal, and a plan that works beautifully for your neighbor or colleague might leave you feeling sad, depressed or inadequate.
While there are many ways to be a good parent, it all starts with creating a home/work routine that feels right to you. Here are five things to try to make you feel good about the job you're doing as a parent:
Focus on Your Role of the Moment – Parenting takes plenty of multitasking as it is, so it helps to just focus on one task at a time. When you need to be focused on work, do so, but when you don't need to check email or browse your phone, stop and focus on the kids. Undivided attention, even in smaller quantities, feels so much better than giving them half of your attention.
Create Memories through Rituals – A tradition of eating dinner together at night, even if you don't accomplish this goal every single night, can give you an opportunity to talk, create bonds, and cherish the time you spend together.
Laugh – Break into song or dance, tell jokes, make light of serious situations, and soon everyone feels a little bit better. Even if it doesn't come naturally to you, it always makes for a mood lightener.
Give Your Kids a Little Space – You want to keep your kids close and safe, but there is something so refreshing about watching them spread their wings. Have your child show you in their own words what they learned at daycare or preschool. Give them a task that they are responsible for completing by themselves. This not only fosters independence in your child, but gives them a feeling of accomplishment
Show Unconditional Love – Make sure your kids know that you always have their backs. When they're discussing what's important to them and they feel supported, they'll beam from feeling love and there's no better feeling than that.
Looking for more parenting tips? Premier Academy is your primary source for all preschool needs in Omaha, Nebraska!
https://www.premieracademyinc.com/wp-content/uploads/2017/05/finding-a-work-family-balance.jpg
195
220
Chris Flaxbeard
https://www.premieracademyinc.com/wp-content/uploads/2021/02/premierbiglogo-header.jpg
Chris Flaxbeard
2017-04-14 12:01:22
2021-03-25 12:52:16
Finding a Work/Family Balance