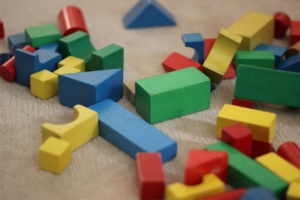 If you have not heard of loose parts play for children, you are not alone. However, even if you have never heard of this term, chances are you are familiar with the concept.
Loose parts was a term coined in the 1970s by architect Simon Nicholson. Nicholson believed that open-ended materials in a child's environment could be linked to creativity and critical thinking later on in life. The fact is, long before Nicholson coined the term, loose part play was going on anywhere children played. Today, childhood experts believe loose parts play is a critical concept in educating children.
Loose parts is literally any collection of materials that can be used by children for play. These materials can be natural, for example, rocks, or they can be man-made materials such as bottle caps or cardboard boxes.
There are endless possibilities when it comes to loose parts play. Loose parts invite creativity in ways that other toys simply cannot. For example, a child can pick up a stone and make it anything they want it to be.
Who hasn't noticed how children can spend long hours playing with simple materials like empty boxes or seashells while more sophisticated and expensive toys go by the wayside? The fact is, children prefer play that gives them the ability to use their imagination and creativity. Loose parts included in play settings, such as child care programs, stimulate creativity and enhance natural curiosity.
Loose parts offer multiple outcomes. In other words, no one outcome is guaranteed. A metal mixing bowl can be a drum, a fishbowl or a hat. Think how bored children become of a toy that does only one thing. Once a child has "mastered" a toy, they are quick to move on. Loose parts, on the other hand, have infinite possibilities so they hold a child's interest longer.
Loose parts play is a great way to promote open-ended learning in young children and also helps children acquire the skills necessary for kindergarten. What's best, it doesn't require repetitive worksheets!
Many people are surprised to discover the concrete skills that loose parts play teaches children. While it is easy to see how art and movement are aided through the use of loose parts, this type of play also helps children master other subjects, including:
Children engage in conversation and storytelling as they describe their creations. They make connections between the stories they have heard and what they are building. This encourages memory as well as vocabulary and literacy.
Sorting, classifying, combining and separating are all learned through loose parts play. Children often begin to count and arrange parts in specific patterns. Measuring, spatial awareness and logical classification are just some of the precursors to higher math that this method of play supports.
Physical Science. Through loose parts play, children investigate and construct ideas. They also begin to understand how things work. And while they don't know it yet, they are discovering the concepts of motion, gravity, force, weight and more.
No matter what children learn through it, perhaps the most important aspect of loose parts play is that children enjoy it. And when children are happily engaged while playing, that is always a good thing.
Premier Academy offers affordable childcare in the Omaha/Elkhorn area. To learn more, visit us at premieracademyinc.com.
0
0
Chris Flaxbeard
https://www.premieracademyinc.com/wp-content/uploads/2021/02/premierbiglogo-header.jpg
Chris Flaxbeard
2019-07-08 08:54:48
2021-03-25 12:51:58
The Many Benefits of Loose Parts Play for Children