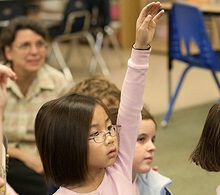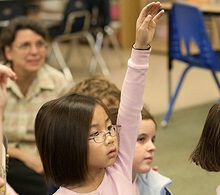 These days, parents have so many different options when it comes to childcare. Parents can choose from childcare centers, home care providers, nannies, non-profit programs, state-funded programs, and so many others. There is a variety of titles for these services, including childcare, daycare, preschool, or early childhood education. Are these terms interchangeable? And how do they differ in terms of quality?
All of the options provide childcare, but saying "early childhood education" gives the impression of an additional educational component beyond basic care. High-quality care comes in many forms and under many terms. A program's use of the term "early childhood education" doesn't necessarily guarantee a high-quality program any more than "daycare" implies a lack thereof.
Regardless of what the organization is called, high-quality early education begins with some basic elements that children need to thrive. Children need and deserve teachers who understand them and treat them with kindness and respect. Families should feel that they are partners in their children's care, who are wholly involved in the decision-making process. You will find all of this and more at Premier Academy!
Importance of Early Childhood Education
We see more and more in early education, the introduction of teaching methods and content designed for elementary-age children to the early childhood classroom. Studies about early education and child development have found that this could actually be extremely damaging to the growth and development of young children. The best childcare curriculum is based on a complete understanding of how young children learn – through engaging, hands-on experiences within a setting of comfort and trust.
Early childhood curriculum needs to take into account all developmental areas, including social-emotional, physical, cognitive, and language development.
Along with this, early childhood programs can and should address academic topics, such as early math, literacy, and science. The challenge lies in teaching these skills in a way that respects how younger children learn. When learning is introduced through a hands-on, playful, engaging curriculum with kind and nurturing teachers, children gain confidence and develop a lifelong love of learning. They enter kindergarten with "ready to learn" skills, such as being able to ask and answer questions, wait for a turn, follow directions, and work cooperatively with peers. Some children enter kindergarten already reading; others need more time. The point is that each child is offered a rich feast of learning opportunities and allowed to grow at his or her own pace.
Great early childhood development and care goes by many names. The difference between a quality early education setting and a mediocre one is not the location or the name. Good organizations hire and retain good teachers, are committed to training and developing their teachers, and focus on respect for children and families.
https://www.premieracademyinc.com/wp-content/uploads/2017/05/understanding-quality-childcare.jpg
195
220
Chris Flaxbeard
https://www.premieracademyinc.com/wp-content/uploads/2021/02/premierbiglogo-header.jpg
Chris Flaxbeard
2017-03-17 12:01:08
2021-03-25 12:52:17
Understanding Quality Childcare