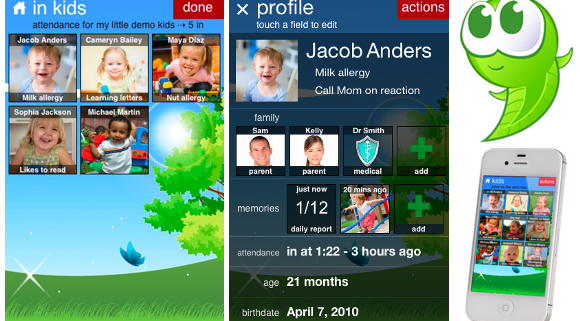 Most child care programs provide parents an update on what their children did all day at pickup. Wouldn't it be nice, however, to receive real-time updates? Updates that include things like photos and videos?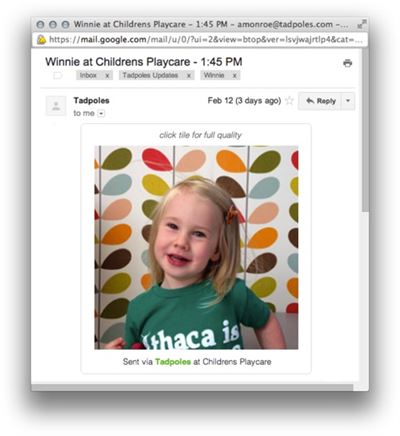 At Premier Academy, we use the Tadpoles app to make sure that parents always feel connected with their children. The Tadpoles app allows us to send reports, photos, videos, notes and reminders to parents throughout the day.
As a parent, how many times have you wondered what your child was up to at a particular time of day? Did they eat their lunch? Did they take a nap? The Tadpoles app gives you the answers to those questions. Now, instead of asking questions like, "What did you do today?" you can ask more specific ones like, "Did you enjoy finger painting?" These types of open-ended questions help to spur more lively conversations.
The Tadpoles app also allows parents to receive emergency alerts or call their child out sick with just a click of a button. And all information sent and received through the Tadpoles app is safe, secure and 100 percent private.
The benefits of the Tadpoles app are numerous and online reviews confirm this. As one parent wrote, "I love using this because it helps me feel connected in real time with my children and their school."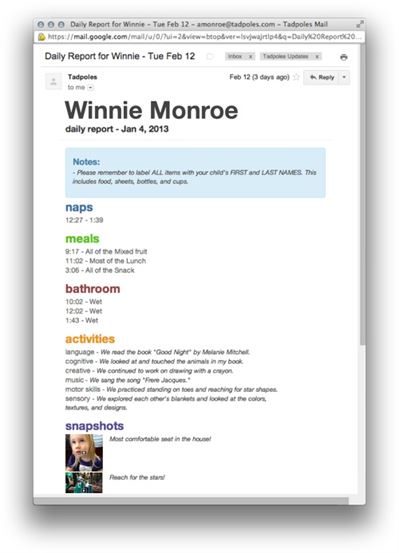 Other parents echo this statement. "Getting notifications throughout the day, seeing pictures, makes me feel like I'm still with them," wrote another parent.
While apps like Tadpoles are recommended by child care experts, providers and parents, it is important to keep in mind that there are limitations to such apps. For example, while it is easy to communicate with your child care provider through apps, some issues require a face-to-face conversation. Sensitive topics such as behavioral issues always are best handled in person.
Like all forms of technology, Tadpoles and similar apps can only do their job if they are being used. Make sure you understand how to use the app so that you can get the most out of it. If you are having trouble figuring something out, ask your child care provider for help. Thankfully, the Tadpoles app is very user-friendly.
Allowing parents to see what their child is doing throughout the day benefits parents, children and child care providers. When parents are in tune with what their child is doing and learning every day, they are able to establish a connection between what is occurring at a child care program and what happens at home. This connection helps child care providers and parents work together to improve a child's confidence, as well as academic and social growth. And these benefits continue into the elementary school years. Studies show that when parents are involved with what is going on with their children in their preschool years, they remain an important part of their education far into the future.
https://www.premieracademyinc.com/wp-content/uploads/2019/02/TadpoleApp.png
345
580
Chris Flaxbeard
https://www.premieracademyinc.com/wp-content/uploads/2021/02/premierbiglogo-header.jpg
Chris Flaxbeard
2019-02-14 10:46:36
2021-03-25 12:51:59
Want Live Updates from Your Child's Preschool? There's an App for That!