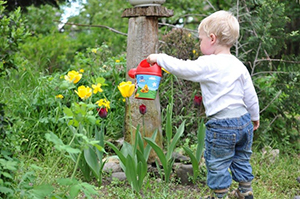 Did you know that most camp planning takes place in early winter and spring? Just when you were getting over the holiday stress and still bundled in your Snuggie, you need to find the place for your child to get out of the house — um, we mean thrive — this summer with affordable summer programs in Omaha, Nebraska.
If the thought of finding a camp just occurred to you, or you have just been putting off the research because you don't know how to start, you're not alone.
The best time to visit camps is during the summer. You get to see what they're all about and the community of kids who go. So if you didn't spend last summer touring, you'll need to rely heavily on websites, camp reviews and discussions with camp staff and alumnae to help find affordable summer programs. Which means you need to know how to navigate sites, narrow down your options and ask the right questions.
1) Make it a Family Affair
Before you surf the Web, think about your child's favorite activities and interests and start a discussion at an informal family dinner. Talk with him about what new things he has always wanted to learn and what kinds of things get him stressed. He might not answer you then and there but check back in a few days and he'll probably have an answer that will help start the camp research and find affordable summer programs in Omaha, Nebraska.
2) Talk to Other Parents
Ask friends and family where their kids had wonderful camp experiences. But ask the right questions to weed through all the glowing reviews.
Talk about circumstances that concern you. Has your child ever been bullied and how did the camp handle it? If my daughter is shy or overweight, how will he be treated by other kids? What if my son is not the greatest athlete — will he have fun at the camp?
3) Search Online
Make a date to sit down at the computer with your child and research camps together. This needs to be a family decision. You're sending your child to camp, but it has to be the child who wants to go. Keep a positive attitude and be enthusiastic about the process. With encouragement, even a reluctant child will channel your excitement. If you're nervous, your child will be, too.
Get an idea of what he wants from a camp. Is it an overnight experience? A day camp focused on perfecting a skill or sport? A local religious program? Or a well-rounded place to do a bunch of different things? There are so many options. Start Googling your ideas like "best soccer camp in Kansas" as a jumping off point. Or use Care.com's Camps site to find options based on zip codes and reviews.
4) Consider the Summer Goals
Just because your niece flourished at an adventure camp doesn't mean your daughter will do the same. It's critical to match the environment to your child and find affordable summer programs.
Camps' websites often have videos that allow you to get a sense of the relationships campers form and the flow of the days. Does it look like your child will fit in? Does the camp appear to be rustic or more pampered? Ask your daughter about her goals for camp. Maybe she wants to develop her sense of leadership and explore nature or maybe she wants to be able to draw and paint all day without breaking a sweat.
5) Talk to the Director
The director is the person who should have all your camp answers. And you should be loaded with questions. A few things you want to know: Where most campers are from/go to school; dynamics of the kids in each age group; the kind of child who is most successful in that camp environment; the return rate. You don't want to send your child to an environment that just replicates her school. A good sign: If campers flock back year after year, it says something positive about how the camp is run.
6) Make a Short List
When you look at too many camps, it's overwhelming and it's easy to get frazzled. Tipograph suggests narrowing down your list to three distinctly-different camps. If your son's goal is to stay local and work on his backhand, consider: a day camp with a traditional setting that offers tennis as an elective; a day camp that focuses on multiple sports and not just tennis so he won't burn out; and a tennis-only camp. Once you have everything narrowed down, you need to meet as a family once again and review the choices.
We want to hear from you. Set up an appointment today to find affordable summer programs in Omaha, Nebraska & how much your children will love Premier Academy!
Premier Academy Child Enrichment Center offers childcare in Omaha, Nebraska for infants, toddlers, preschool, and pre-k children.
https://www.premieracademyinc.com/wp-content/uploads/2017/05/gardening-with-small-children2.jpg
199
300
Chris Flaxbeard
https://www.premieracademyinc.com/wp-content/uploads/2021/02/premierbiglogo-header.jpg
Chris Flaxbeard
2014-05-08 12:00:03
2021-03-25 12:53:15
6 Steps to Starting the Camp Search