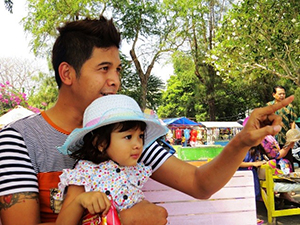 Family vacations are great for bonding with loved ones as you get away from your normal routines. But a family vacation can sometimes feel like no vacation at all for parents chasing after kids. Parents need time to themselves, and not just for romance, but to relax, reconnect and revisit what brought them together.
The kids, too, often need a break — time without the watchful worrying eyes of parents, time to be kids and time to be with other kids. Even if it's for just a few hours while you and your partner go out dinner, you'll all appreciate the time apart and keeping summer fun for kids.
1) Choose a Hotel with Babysitting Services
Lots of hotels and resorts offer access to babysitters, day care and kids clubs. When you're traveling with little ones research the babysitting services offered through the resort. The extra time it gives you as a couple will more than make up for the extra time you spend researching.
Even if you're only leaving your kids for an hour or two, keep safety in mind. Ask the hotel where they find the sitters, how they interview them and if they run background and reference checks. Do they watch the kids in your room, a child care facility or other spot in the hotel? Interview the actual babysitter yourself and take a look at the facilities to confirm they are clean and safe.
2) Take a Kid-Friendly Cruise
Like hotels, most cruise ships offer child care or supervised activities for children. With the kids safe and nearby, parents can get some worry-free alone time. Mulholland is a fan of the Disney Cruise Line, which offers lots of options for young kids, teens and tweens. Since some cruises have minimum traveling ages, make sure your little ones are old enough to hop aboard with extra summer fun for kids.
3) Use a daycare service
If your hotel doesn't offer a service or you prefer to do the vetting yourself, find a daycare provider like Premier Academy.
4) Reserve a Room with a View — and a Veranda
Not all families can afford a resort, however, and not all parents can afford or are comfortable turning over responsibility to strangers. Book a hotel room with a balcony, so you and your spouse can take a bottle of wine out to the 'veranda' once the kids are asleep. This is an inexpensive and easy option for getting at least a little alone time while vacationing with children.
5) Book a Suite, Adjoining Rooms, a Condo or a House
When the kids are old enough to be in their own room, book a suite, condo or house swap — anything that keeps you in the same space, but gives the parents a separate room (with a door that locks) and gives the kids their own space (with a TV to keep them engaged). You'll be able to watch over your kids, but still enjoy some privacy all the while providing summer fun for kids.
6) Plan a Multigenerational Vacation 
Make this a real family vacation and bring grandma and grandpa along. 40 percent of families have gone on a multigenerational vacation. In an era where many grandparents live in different cities, states or time zones than their grandchildren, a trip can forge bonds far stronger than a simple holiday visit to grandma's house. Plus, grandparents make great babysitters.
7) Look for the "All-Inclusive" Option
Family camps have gone beyond cabins in the Catskills or dude ranches of the sort often made fun of on sitcoms. Many theme parks and camps have baby care centers and babysitting services. They also offer lots of options for family fun — including kids-only activities and entertainment.
With these tips, you can have the perfect vacation, complete with ample family time and just enough "alone time" with your partner to remind you both how much you enjoy one another's company.
We want to hear from you. Set up an appointment today and see how much your children will love Premier Academy!
Premier Academy Child Enrichment Center, offers childcare in Omaha, Nebraska for infants, toddlers, preschool, and pre-k children.
https://www.premieracademyinc.com/wp-content/uploads/2017/05/finding-the-right-parenting-style.jpg
225
300
Chris Flaxbeard
https://www.premieracademyinc.com/wp-content/uploads/2021/02/premierbiglogo-header.jpg
Chris Flaxbeard
2014-03-19 12:00:59
2021-03-25 12:53:15
Summer Fun for Kids!