Infant Activites
Where Did It Go?
Take a koosh ball or other soft ball and squish it into a small container with a lid. Close the lid. Ask your baby, "Where did the ball go?"
Encourage him to open the container and watch the ball spring out, jack-in-the-box style.
The popping ball is sure to get his attention, and the game is an exciting way to learn about object permanence — the fact that an object still exists even if you can't see it — explains Susan P. Epstein, a parenting coach in New London, Connecticut. Kitchen Stack-Ups, empty cereal boxes, plastic yogurt containers, and unbreakable bowls are perfect building materials for teetering towers. As you stack each item, describe its size and shape. Once your homemade skyscraper is complete, you and your baby can take turns knocking it down. This activity, Epstein says, will teach your baby about shapes and sizes as well as cause and effect ("Wow, when I push on these boxes, they come down with a big boom!").
Book of the Month
Hello Baby!
By Mem Fox
After meeting a bevy of baby animals — including a clever monkey, a hairy warthog, and a dusty lion cub — the baby in this story discovers the most precious creature of all…itself, of course!
With an exuberant rhyming text by bestselling author Mem Fox and adorable cut-paper illustrations by Caldecott-Honor recipient Steve Jenkins, this book is an irresistible celebration of the joyful connection between parent and child.
About the Author
Mem Fox is the author of many acclaimed books, including Hattie and the Fox, Time for Bed Hello Baby!;The Goblin and the Empty Chair, the New York Times bestselling Ten Little Fingers and Ten Little Toes, as well as the adult title Reading Magic: Why Reading Aloud to Our Children Will Change Their Lives Forever. She lives in Adelaide, Australia. Visit her at www.memfox.net.
Fun Recipe of the Month
Baby Oatmeal Recipe
Put a cup of water in a saucepan on the stove top to boil. Meanwhile, take 1/4 cup (4 tablespoons) of oatmeal (non-quick cooking) and whiz it in the blender until it becomes a powder, stir it into the cup of boiling water, turn the heat down to low, and let cook for 10 minutes. Stir with a whisk or fork to prevent lumping and scorching on the bottom. Let cool thoroughly before feeding to your baby. It will look just like the commercial boxed baby oatmeal mixed with liquid, but much, much more economical!
Baby's food should be only moderately warm, about 99 degrees or body temperature — like breast milk.
TIP: You can double the recipe and store half of the cooked oatmeal, covered well, for up to two days in the refrigerator.
Return to Infants Program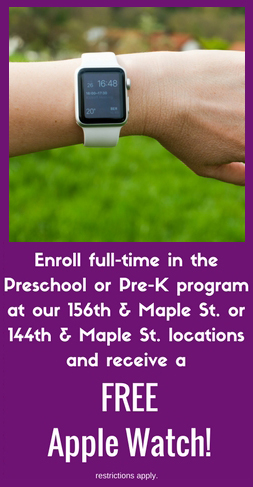 ---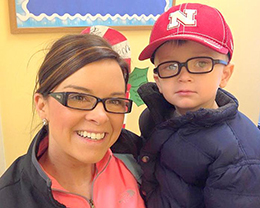 My name is Tiffany Villotta and my son Bode attends your Maple Street location! I just want to share our story with you because it is a great one! Read more testimonials…
---
---