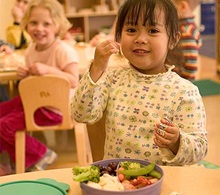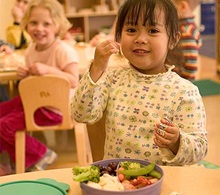 With the winter months coming upon us, we find that our children are at risk for infections and colds. Taking care of a sick toddler isn't fun. But taking care of two sick children is worse. It means more misery and sleepless nights — and for you, more missed days of work.
Kids do pass infections to each other easily in a group setting such as daycare, particularly during the winter months. You can't prevent it entirely, unless you switch to a nanny or decide to stay home yourself. But there are steps you can take to minimize the chances your baby will be ill at daycare.
Step up your disinfecting:
Even if you're not germ-obsessed usually, now might be a time to focus more on disinfecting surfaces in your home. It can help prevent germs from spreading from child to child in a daycare setting.
Practice good diaper hygiene:
Be especially careful with dirty diapers now — particularly if you have more than one kid wearing them. The changing table could be a spot where your kids exchange germs. So you could decide to use the changing table only for your sick toddler and change your healthy kid somewhere else. Or you could always lay a fresh blanket over the changing pad when putting a diaper on your healthy child.
Don't allow sharing at meals:
Mealtimes may usually be chaotic, with your kids regularly swapping silverware, cups, and food. For now, do what you can to prevent that.
Keep the bathroom hygienic:
While germs generally don't live on towels very long, they can live long enough to make a healthy kid sick. So launder them regularly. You may even want to switch to disposable paper towels for a week to prevent germs from infecting other family members. By the same token, consider replacing the bathroom water glass with disposable paper cups for a while. And get your child a new toothbrush after he's been sick.
Wash Hands:
Teach your child how to wash their hands with good warm water and soap. Keeping on top of them regarding this is important. Sometimes just having set times where they wash their hands will get them into a good habit especially at daycare. Right after they get back home, before dinner, after they use the washroom.
Coughing in the Elbow:
Teach your child to cough NOT in their hands, but in their ELBOW area of their sleeve or shirt. This helps prevent germs from spreading to toys or other hands at daycare.
Dressing Warm:
The reality is that most of what hits our kids is them getting cold while doors, so dressing them warm with a good jacket, toque and scarf helps.
Cleaning Toys and Doors:
Most of the time germs are spread through toys and the doorknobs. So disinfecting these things always helps.
Cleaning your Computer:
Wipe down your computer keyboard and mouse at least once a week during the winter months to prevent spread of germs and sickness. Using something like 99% hydrogen peroxide or isopropyl alcohol will burn off the germs and clean your keyboard and mouse with-out damaging your electronics.
https://www.premieracademyinc.com/wp-content/uploads/2017/05/teaching-your-child-healthy-eating-habits.jpg
195
220
Chris Flaxbeard
https://www.premieracademyinc.com/wp-content/uploads/2021/02/premierbiglogo-header.jpg
Chris Flaxbeard
2013-11-13 12:00:45
2021-03-25 12:53:28
Keeping your children healthy