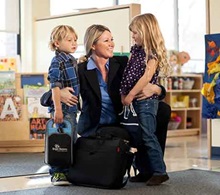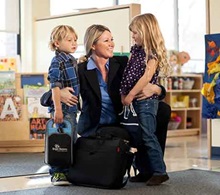 Trusting someone to care for your child can be a frightening experience. Many times, you don't know the person you choose.
To put some of your fears to rest, it helps to take the necessary precautions to ensure you have chosen the best chidlcare center.
Networking with area mothers can be another good way to find childcare options. Many will be able to tell you what they liked, and didn't like about the place or person they used.
If you go this route though, it's always a good idea to research the place or child care Omaha Nebraska provider yourself, to ensure you feel comfortable with the experience, training, certifications and licensure they hold.
Interview the Childcare Option
When you find a couple of places, it's wise to call to set up an appointment for an interview. When you have the opportunity to sit face-to-face with the childcare center, you can get a feel for the kind of people employed, and be able to ask any questions you have about their knowledge, experience and childcare style.
What to Ask at the Interview
Make a list of interview questions to ask the childcare center or provider. This list should include anything that will help make the decision in either choosing or dismissing the provider as a possibility.
Some of the questions you might want to consider asking are:
How many children do you care for each day?
What is the staff to children ratio?
How do you comfort a crying baby?
How often are the children fed?
What kinds of activities do you do with the children?
Do I need to provide food?
What happens if a child becomes ill?
How do you discipline children?
How is your facility safe for my child?
Take Time to Think
Try not to make a decision on whether or not you will use a particular provider as soon as the interview is over. Give yourself some time to think about the provider, and consider all of your options.
By taking time, you won't feel as though you've rushed your decision, which will make you feel much more confident about your choice.
Asking Your Child
If your child is of age, you can ask him or her about a particular  provider. This will validate your child's feelings, and help you feel better about leaving him or her in someone else's care. If your child is happy, you will be happy.
Transferring Providers
Sometimes the childcare center you choose doesn't work out. It's nothing you did wrong, and sometimes nothing the provider did wrong. It's sometimes just not a good fit. When transferring to another child care provider, think about what you didn't particularly like about the one you use now. Check in with others to ensure they do not do the same, along with considering all of the suggestions mentioned above.
By doing this, you have a greater chance of finding a provider who will be able to care for your child on a long-term basis.
We want to hear from you. Set up an appointment today and see how much your children will love Premier Academy!
Premier Academy Child Enrichment Center, offering childcare in Omaha, Nebraska for infants, toddlers, preschool, pre-k and school age children.
https://www.premieracademyinc.com/wp-content/uploads/2017/05/maintaining-a-balance-between-work-and-family.jpg
195
220
Chris Flaxbeard
https://www.premieracademyinc.com/wp-content/uploads/2021/02/premierbiglogo-header.jpg
Chris Flaxbeard
2013-11-14 12:00:58
2021-03-25 12:53:28
Tips for Finding a Child Care Provider