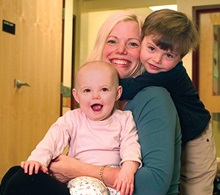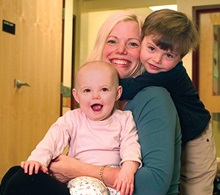 When is that baby going back to the hospital?" asked the preschooler to her mother holding her new baby brother.
For you, the arrival of a new baby is a happy event. This is not necessarily true for an older child. The excitement and adjustment of a new baby in the house may naturally cause an older sibling to feel left out, abandoned, and less special – even as you reassure him that that isn't the case. Many children may be jealous or tired of all the commotion and attention towards the new baby.
Sibling Rivalry & How to Help Siblings Build Relationships
What is sibling rivalry?
All children want the love and attention of their parents, and when a new child arrives, parents must divide their attention out of necessity. It's important to remember that a child's feelings of jealousy and fears of abandonment can exist simultaneously with feelings of love and pleasure about the new baby. Children may feel the new baby is a replacement or not yet understand how to assume the role of a big brother or sister.
With a little effort, parents can help foster sibling relationships and guide older children through this family transition.
Accept that sibling differences are normal.It's natural for parents to track milestones between their children especially if they are keeping a baby book. Rather than compare, accept that children are different and come with their own unique characteristics.
Acknowledge your child's feelings.Your child may display a wide range of emotions towards the new baby. Rather than dismissing it, acknowledge his feelings: "Is it frustrating that I have to help the baby while I am spending time with you?" Spend time remembering your own experiences and feelings as a sibling or talk to friends about their sibling relationships. Share your own stories with your child that help to illustrate that sibling differences are natural and it's okay to have various feelings about the new baby or becoming a sibling.
Walk down memory lane with your child.Show your child pictures from his "babyhood" to illustrate the love and attention you gave him when he was an infant. Tell your child stories about all the wonderful baby things she did.
Plan one-on-one time with your child.Schedule special dates with your child and keep them. One-on-one time doesn't have to be elaborate, a simple walk outside or snuggle time with a book are great ways to connect with your older child.
Integrate your child in the infant care routine. Make one of the baby's daytime naps a special time to spend with your older child. During feedings, have your child join you to read a book or play a simple game such as iSpy. Give your child a special job during diaper changes or have her gently pat the baby's back when he or she is crying.
Give it time.Some children may take longer to accept a new sibling into the family. Try not to force the relationship but let it grow over time.
Individual Reactions Children Have to New Babies
Why is it more difficult for some children to adjust to a new sibling? The University of Michigan Health System suggests many factors that can contribute to a hard adjustment:
Research indicates that a child's personality has the greatest effect on how he or she reacts to a new baby.
Children with the closest relationships with their mothers have shown to become more upset after the baby is born.
Your child's developmental stage may affect how well they can share your attention. Often toddlers have more trouble getting used to a new baby, because their needs for time and closeness from their parents are still great.
Stress on the family can make your older child's adjustment harder.
Children's Books About Adjusting to a New Baby
There are many great children's books available about pregnancy, birth, adoption, and new baby siblings. Reading together will help your child realize her feelings and ideas are normal and that no matter what happens, you love her in a very special way and always will.
Toddler books:
Waiting for Baby by Rachel Fuller
My New Baby by Annie Kubler
We Have a Baby by Cathryn Falwel
The New Baby by Fred Rogers
The New Baby at Your House by Joanna Cole
Preschooler books:
Baby Brother by Tanneke Wigersma
Julius, the Baby of the World by Kevin Henkes
Will There be a Lap for Me? by Dorothy Corey
When the New Baby Comes, I'm Moving Out and Nobody Asked Me if I Wanted a Baby Sister by Martha Alexander
Pre-Kindergarten through School-age books:
A New Baby Is Coming! by Emily Menendez-Aponte
My New Baby and Me by Dian Smith
Arthur and the Baby by Marc Brown
Pinky and Rex and the New Baby by James Howe
Welcoming Babies by Margy Burns Knight
https://www.premieracademyinc.com/wp-content/uploads/2017/05/preparing-a-child-for-a-new-baby.jpg
195
220
Chris Flaxbeard
https://www.premieracademyinc.com/wp-content/uploads/2021/02/premierbiglogo-header.jpg
Chris Flaxbeard
2015-07-28 12:00:59
2021-03-25 12:52:45
Preparing A Child For A New Baby