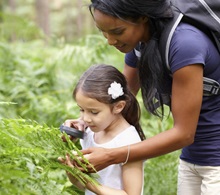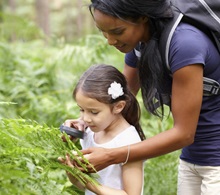 Remember when you were a kid and summer seemed endless — in a good way?
Funny how things change. Now it's just a matter of time before your kids start saying, "I'm bored," to you. This summer, get ready to banish that phrase from their vocabulary with this list of free or low-cost summer activity ideas. Your children will no longer ask, "What can we do this summer?"
Go to the Library
Most libraries around the country offer free summer reading programs that encourage kids of all ages to read, and they often host other activities like, parties, music and puppet shows. Check out libraries in neighboring towns too — they might offer something your regular branch doesn't. Visit PublicLibraries.com to find local libraries for things to do this summer in Omaha.
Tour a Local Business
You may not have to look further than your favorite pizzeria to find an afternoon activity. Local restaurants are often open to giving kids a behind-the-scenes look at a working kitchen during slow times if you stay for lunch. Or, do you have an interesting factory (candy? toys?) in your area? Many factories offer tours, which can come with freebies to take home.
Seek Out Free Art and Culture
Some museums and cultural institutions, like botanical gardens, children's museums, zoos, aquariums and observatories, are always free. Those we love! But even the ones that charge admission often offer free or reduced-rate days or hours weekly or monthly. Grab a calendar and map out those times so you'll know instantly on a rainy Tuesday where to find refuge.  While you're at it, check their calendars for special summer activities — many offer classes, concerts and tours just for kids.
Check Out Chain Stores
Scores of national retailers are now offering free or inexpensive children's activities or classes. (Note: We love this trend, but be careful not to overspend at the store while you're waiting for the kids to finish.)

IKEA has supervised playrooms for potty-trained kids. Just drop and shop. Sounds dreamy.
Home Depot and Lowe's run free weekend project workshops for kids (ages 5-12 for Home Depot). You needed new bookshelves, right?
Crafts stores, such as Michaels, hold free project demos t that will keep creative kids happy, ages are craft-specific but can start at 3.
For the budding tech-engineer, Apple stores run free 3-day Apple Camps where kids ages 8-12 learn how to make films.
And the list goes on. Whole Foods and other grocery stores offer cooking classes, bookstores like Barnes & Noble offer free storytime. Check with stores in your area to see what they have planned.

Visit a Farm
Whether they're petting animals or picking fruit, kids love farms. Check with farms in your area to see if they offer tours, activities or are open to a few hours of help with real farm chores from your pint-size volunteers. This is a fun for all asking what to do this summer in Omaha.
Volunteer to Help
While the kids are in the volunteering mood, look for places in your community that could use their help. Whether it's cleaning up a local park, walking dogs at an animal shelter or visiting residents at a nursing home, summer is a great time to introduce children to the joys of giving back. Search for opportunities in your area at Volunteer Match, 1800Volunteer or Volunteer.gov.
Catch a Movie
During the dog days of summer, sometimes you just need to escape to somewhere — anywhere — with great air-conditioning. Luckily, several movie theater chains open their screens to little ones for little prices during summer months. Regal Cinemas' Summer Movie Express is offering $1 movies on Tuesday and Wednesday mornings this summer, and Cinemark is showing kids' flicks for as little as 50 cents as part of their Summer Movie Clubhouse. Check theaters in your area for similar deals.
Take a Hike
The great outdoors is always open and waiting for little explorers. Make hikes at nature reserves and parks in your area even more fun with REI's free Kids' Adventure Journal, where young hikers (ages 6-12) can log notes and draw pictures about their experiences.
We want to hear from you. Set up an appointment today and see how much your children will love Premier Academy!
Premier Academy Child Enrichment Center offers childcare in Omaha, Nebraska for infants, toddlers, preschool, and pre-k children.
https://www.premieracademyinc.com/wp-content/uploads/2017/05/family-time-fun-things-to-do-with-kids.jpg
195
220
Chris Flaxbeard
https://www.premieracademyinc.com/wp-content/uploads/2021/02/premierbiglogo-header.jpg
Chris Flaxbeard
2014-03-05 12:00:22
2021-03-25 12:53:15
What to do this summer!