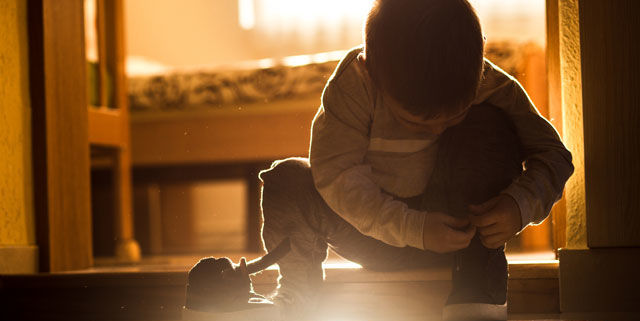 As the weather grows colder, heading out the door in the morning will involve more than just throwing on a t-shirt and pair of shorts. Jackets, long pants and long-sleeve shirts will soon be followed by winter coats, hats and scarves.
While some toddlers and young children want to do everything themselves, others will show little interest in dressing themselves. While it is tempting – in the interest of time and frustration – to dress your child every morning, it is important that children learn to master this achievement. Doing so will allow them to be more independent and builds their self-confidence.
The skills that children develop when they dress themselves are significant and include fine motor, gross motor and cognitive skills. Manipulating small buttons and zippers helps strengthen fine motor skills. Gross motor skills improve when a child is able to stand on one leg when pulling on a pair of pants and understanding that a shirt goes on before a sweater and socks before shoes helps to build cognitive skills.
When you are in the thick of teaching your child how to dress themselves, it may feel as if they will never be able to do it on their own. However, what follows are some tips that will help you both remain patient as your child reaches this important milestone.
Consider teaching them how to put their pajamas on first. Pajamas are usually easier for children to manipulate because they don't have a large number of buttons or zippers. Further, parents usually have more patience when they aren't worried about getting to work or day care on time.

Pass on complicated articles of clothing until a child is older. Clothing with too many zippers or small buttons will only serve to frustrate a child when they are still learning. The same goes for shoes. Start with slip on shoes or Velcro straps until the child is used to getting their shoes on and off. Once they have mastered that that they can move on to learning to tie their shoes.

Get creative when helping your child get dressed. Purchase clothes with characters or fun designs so they know which side goes in front. Tear a sticker in half and put one on each shoe. When their shoes are on correctly, the two halves will make a whole picture.

Let your child practice dressing their stuffed animals or buttoning a shirt they aren't wearing. Fine motor skills take time to perfect. Putting on clothes, buttoning and zipping all in one sitting is often too much when your child is just learning. Let them master one skill before moving on to the next.
Teaching a child to dress themselves is not easy and takes a tremendous amount of patience on everyone's part. The more fun you make it, however, the smoother it will go. Be sure to cheer your child on when they master a task. While it may seem like a slow process, one day you will wake up and your child will be dressed and ready to go before you!
If you are looking for affordable childcare in the Omaha/Elkhorn area, visit us at premieracademyin.com to learn how to get your child enrolled. 
https://www.premieracademyinc.com/wp-content/uploads/2020/11/getting-dressed.jpg
450
640
Chris Flaxbeard
https://www.premieracademyinc.com/wp-content/uploads/2021/02/premierbiglogo-header.jpg
Chris Flaxbeard
2020-11-09 16:08:58
2021-03-25 12:50:21
Teaching Your Child to Get Dressed on Their Own